About Opsyon
Opsyon is a spin-off project of the Ludwig-Maximilians University (LMU) Munich, from the laboratories of Prof. Karl-Peter Hopfner and Prof. Marion Subklewe at the Gene Center Munich.
Opsyon is in the pre-seed phase and funded until May 2022 by the EXIST Transfer of Research grant by the Federal Ministry for Economic Affairs and Energy (BMWi), which is co-financed by the European Social Fund.
At Opsyon, we are developing novel immunotherapies that combine immune checkpoint inhibition with antibody-based tumor targeting in one drug to improve and advance the treatment options for cancer patients. The technology confines the benefits of the CD47-SIRPα inhibition to tumor cells providing cancer patients with an effective therapy, with reduced systemic side effects and the possibility for long-term survival, and a better quality of life.
Our lead candidate OPS-121 targets the aggressive hematological disease acute myeloid leukemia (AML) and provides strong evidence for an effective elimination of CD33-positive AML cells caused by multiple effector cells. OPS-121 further comes along with an improved safety profile due to the low affinity binding of SIRPα to CD47 which limits unwanted CD47-related side effects. An additional pipeline candidate, OPS-301, targets solid tumors such as pancreatic and ovarian cancer.
See how our OPS-121 antibody-fusion re-activates immune cells against cancer. Within minutes of OPS-121 addition, macrophages actively search for and eat up AML-related cancer cells through a process called phagocytosis. @NanoLiveLtd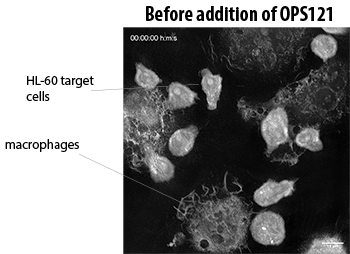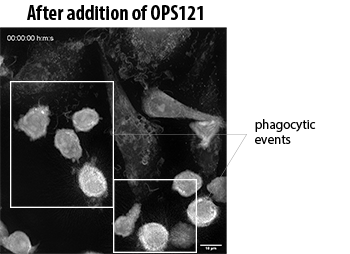 Supported by